Dr Steve Nugent PsyD
Renowned psychologist, author, public speaker and expert on science, health, wellness and nutrition
The Nugent Report is hosted by Dr. Steve Nugent, a renowned psychologist, author, public speaker and expert on science, health, wellness and nutrition. Dr. Nugent's mission with this website is to provide objective information about a variety of topics in wellness and nutrition, as well as to increase public awareness of health and nutrition in relation to the realities of the modern diet and dietary needs vs. 21st Century stresses and the environment. He got his start in radio during his days as a Marine and has trained in electronic journalism, television, technical direction and more.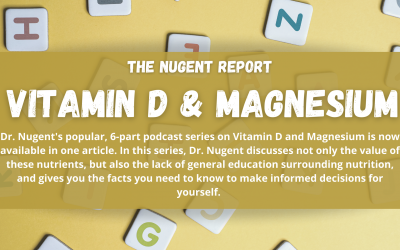 English | 简体中文 Hello my friends! Let's talk about Vitamin D and Magnesium. Two of the most important nutrients for the 21st century. In these episodes, you're going to learn some things about Vitamin D and Magnesium that you've probably never heard before. In fact,...
Join the Newsletter
Get all of the latest news from Dr. Nugent right in your inbox!